One of the fallen is a Frederick County fire fighter.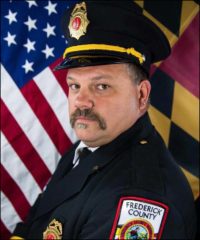 Capt. Joshua Laird, one of the fallen fire fighters who will be honored this weekend in Emmitsburg.
(Photo from Frederick, Md Government)
Emmitsburg, Md (KM) Those fire fighters who gave the ultimate sacrifice will be remembered this weekend in Emmitsburg. The National Fallen Fire Fighters Memorial ceremony will take place at the National Fire Academy in Emmitsburg on Sunday morning..
Ron Siarnicki, the Executive Director of the National Fallen Fire Fighters Foundation, says 146 fire fighters who lost their lives in the line of duty last year will be honored. About 600 family members of the fallen will be on hand for the ceremony. "Each family member will be called up to receive a flag that flew over the United States Capitol, and the Fallen Fire Fighters Memorial; along with a fire fighter line of duty death badge, which is a personally engraved badge with their name and their department on it; and a red rose which is the symbol of the Foundation and our commitment to families," he said.
A Frederick County Fire Fighter will be among the 146 who are  honored. Captain Joshua Laird  died on August 11th, 2021 while battling a house in Ijamsville. He was assigned Green Valley Fire Station 25 in Monrovia. Following his death, Captain Laird was promoted to battalion chief.
In addition to honoring the fallen, Siarnicki says the Memorial Weekend is a chance for families of the fallen to gain some comfort in dealing their loss. "It's an opportunity for them to engage with other family members from previous years so they have somebody they can interact with and they can talk with. And they just need a shoulder to lean on not only during the Memorial Weekend, but afterward. A great many friendships are built. And all of that is part of the healing process," he says.
"Family day activities include some grief intervention programs, and some activities and actions that the families can use when they're just having a bad day, and that happens," Siarnicki continues.
Even though the emphasis this coming weekend is honoring the fallen, and assisting families dealing with their grief, Siarnicki says there is a national effort to help reduce the number of fire fighter deaths and injuries called "Everyone Goes Home." "There is a program that the Foundation created that has 16 fire fighter life safety initiatives which we believe is a blueprint for helping to reduce fire fighter deaths and injuries," he says. "And it's indented to raise awareness, provide training and support."
The Memorial ceremony gets underway at 10:00 AM on Sunday, October 9th. Siarnicki says it is open to the public, but the event will be streamed on the Foundation's website for those who can't be there in person. (www.firehero.org)
By Kevin McManus