She delivered her final State of the County Address Thurs. night.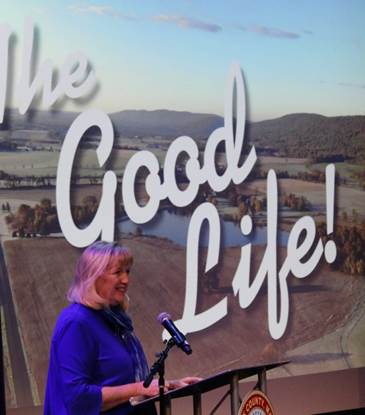 County Executive Jan Gardner
Frederick, Md (KM) Frederick County Executive Jan Gardner looked back on her eight years in office Thursday evening during the State of the County address.
Speaking to an audience at the New Spires Arts Stages, Gardner recalled. that when she started her term in 2014, the county began operating under charter government with a county executive and a county council,  replacing the commissioners form of government. She said she was committed to standing up charter government. "Standing up charter was hard work and required knowledge of county government and the breadth of services. And it depended upon a strong and productive working relationship with the County Council, with our federal, state and municipal partners, and the entire community,": she said. "I'm proud to have laid the foundation for how charter government operates and will work into the future."
Gardner pointed to a number of accomplishments during her eight years in office, especially the Livable Frederick Master Plan. She says it's a strategic plan for the county's future where people of all ages can lead fulfilling lives and enjoy a high quality of life. "Livable Frederick strikes the right balance, accommodating population and business growth, while preserving our rural land, our historic and cultural assets, and the scenic vistas that Frederick County residents cherish," says Gardner.
There was also increased appropriations for public education. "Now, I'm extremely proud that my administration has made a record investment in public education, funding $113-million over and above the minimum required by law or maintenance of effort,:" she said. "This record investment has allowed us  to make progress, to retain our the best teachers and school staff. We want our students to have the best opportunities to achieve their dreams."
Among the challenges facing the county over the past eight years was substance misuse. But Gardner says her administration was able to open a local detox center so residents don't have to go out of the county for treatment. She also says a  24/7 mobile crisis unit has been set up with personnel who accompany police officers when they're answering calls for service. "A crisis stabilization center is the last missing piece of our behavioral health continuum of care," Gardner says. "And I'm pleased to announce that we've received federal funds thanks to our federal delegation partners to establish a crisis stabilization center, and we'll direct funding for our share of the National Opioid Settlement to help support the ongoing operational costs."
In her State of the County address, Gardner pointed to other accomplishments, including the retention of the County's AAA bond rating by all three major bond rating agencies, along with historic job growth, and major employers locating in Frederick County. "And we've accomplished all this while protecting taxpayers. We have not raised property tax rates. In fact, we have reduced income tax rates by 7% for households earning $100,000 or less in taxable income. And we've expanded the senior tax credit, and adopted a veterans tax credit,": she says.
Gardner is nearing the end of her eight years in office, and, under the Charter, she cannot run for another term as County Executive.
By Kevin McManus