The hunter flown to the hospital.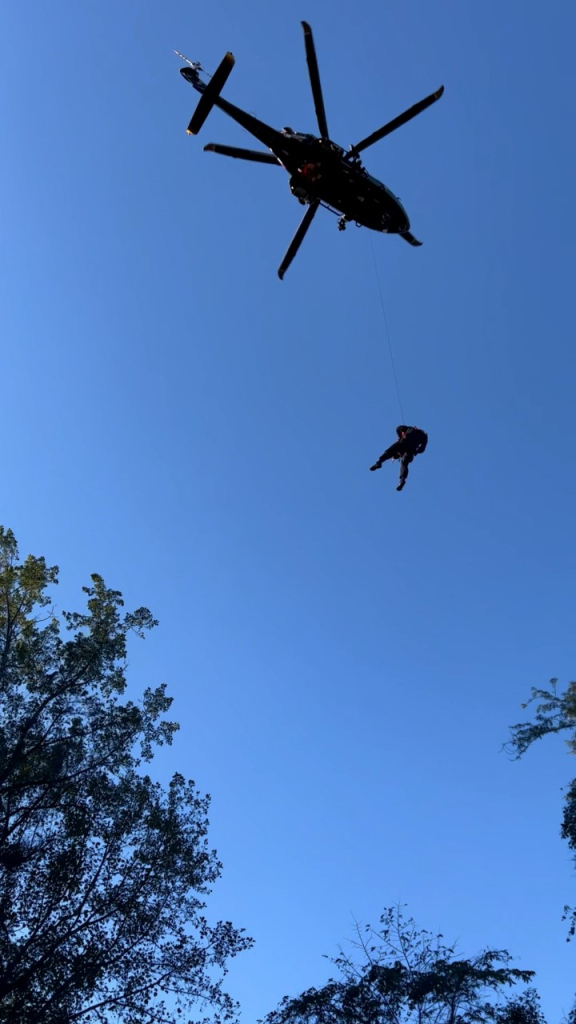 Injured hunter in Howard County  rescued by State Police Helicopter (Photo from Md. State Police)
Ellicott City, Md (KM) An injured hunter was successfully rescued on Friday by a Maryland State Police helicopter.
Just after 8:00 AM, Howard County Fire and Rescue and State Police responded to the Cascade Falls Trail in Ellicott City for a hunter who had fallen about 20 to 30 feet from a tree stand. The individual was in severe pain with fractured ribs, and a possible fractured pelvis. Maryland State Police Trooper 2 helicopter  stationed at Joint Base Andrews flew to the scene.
Due to the extended distance and patient's injuries, it was determined that an ATV could not reach the scene. It was requested that the State Police helicopter hoist the patient out of the wooded area, and take that person to the hospital.
After locating the extrication stile in the  wooded area, the crew maneuvered the helicopter into a steady 150-foot hover, according to State Police. A state trooper/medic was deployed from the helicopter. The patient was "packaged": with assistance from Howard County Fire and Rescue, and hoisted into the helicopter.
The patent was flown to the University of Maryland Shock Trauma in Baltimore.
By Kevin McManus