The County Executive says these funds  will increase transportation options, reduce barriers to resources and services.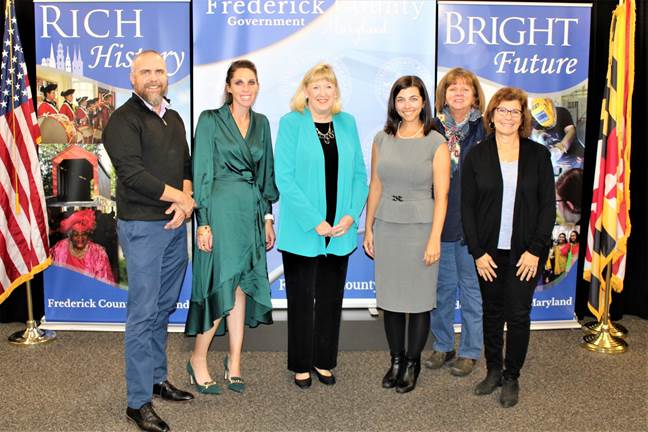 (Photo from Frederick County Government)
Frederick, Md (KM) Four local non-profit organizations will be receiving funds from Frederick County's share of the American Rescue Plan Act.
During her public information briefing on Thursday, County Executive Jan Gardner says one of those groups is Love for Lochlin  Foundation, which works to fight infectious diseases through vaccinations in low income and underserved communities. "They will use a $313,000 grant to purchase a mobile community support response unit to serve as a mobile clinic so they can reach people where they are," she said.
Brooke DeSantis is a co-founder of Love for Lochlin. "I'm really excited about this. It's going to help even more It's going the broaden the horizons so much more. I can't say more than that. I'm really grateful. The community is really grateful so I thank you," DeSantis said.
The Student Homelessness Initiative Partnership is receiving funding to continue its  work of helping young people who don't have a stable place to call home. "With a $395,000 grant, SHIP will apply the same approach to help teens access driver's education and financial planning to help them purchase a vehicle," Gardner says.
"SHIP's Driver's Education and Car Ownership Program provides students with the opportunity to obtain several life long skills," says Melissa Muntz, Executive Director of SHIP. "Not only will our students be financially supported in obtaining a legal driver's license and maintaining a vehicle long term, they will also receive individualize case management and one-on-one support every step of the way."
A third non-profit receiving ARPA funds is the United Way of Frederick which will be getting $250,000 to begin a new ride sharing program. Ken Oldham, Executive Director of United Way, says the program called  Ride United was established to provide free or low cost transportation for ALICE households (Asset Limited, Income Constrained, Employed) and veterans to get to and from a job, or to medical appointments. (ALICE households are those where one or more family members work, but earn enough to make ends meet.)
Oldham says 4200 rides  were provided under Ride United between November, 2021 and June,  2022. But he says the program was unable to reach seniors, those who live in rural communities and local youth. So the Ride United Network was established, and this $256,000 grant will help. . "We would be absolutely delighted that this program will provide over 8,000 rides to ALICE households in our community,": he says. "And it gives a good jump start so we can mike this program last a very long time in Frederick County."
The final non-profit receiving ARPA money is the Maryland Deaf Community Center. It's expected to get up to $500,000 to get a community center up and running for citizens who are deaf or hard of herring. It would  provide services resources and information in American Sign Language to persons who are deaf or hard of hearing.  . "In Maryland, there is not one community center for the deaf in the state of Maryland. So Frederick will be the first, and we're really proud of this,:" says Lori Bonheyo, Vice President of the Maryland Deaf Community Center. She spoke through a sign language translator.
Frederick County has received $50.4-million in American Rescue Plan Act funding which is provided by the federal government to help communities recover from the negative impact of the COVID-19 pandemic.
By Kevin McManus