The debate was broadcast over ZOOM. .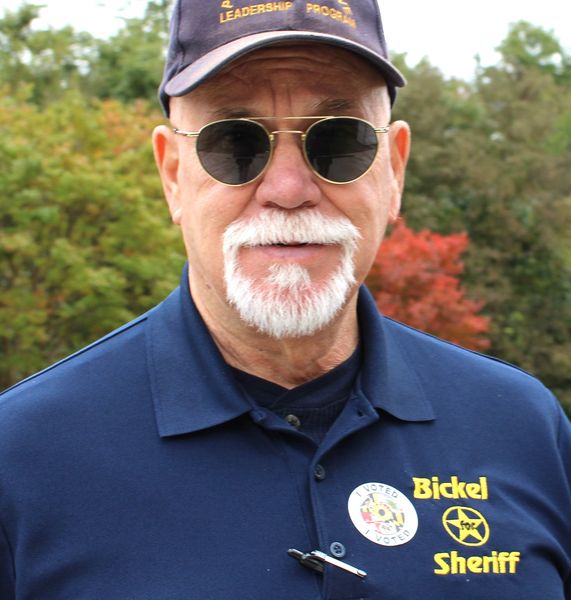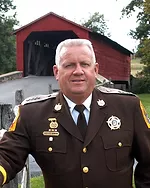 Karl Bickel Sheriff Chuck Jenkins
Frederick, Md (KM) The two candidates for Frederick County Sheriff squared off in a virtual forum on Sunday evening.
They were each asked about their qualifications for office. In his answer, challenger Karl Bickel said he was second in command at the Sheriff's Office several years ago, and he contrasted himself with incumbent Sheriff Chuck Jenkins. "In contrast to the current sheriff, I am not an election denier and MAGA Trump supporter, a member of an extremist organization. I am not one who takes trips to the Mexico border funded by a hate group, or goes to Mar-A-Lago to mingle with like-minded election deniers or insurrectionists," he said.
Sheriff Jenkins said he has 32 years of experience in law enforcement. "My opponent, however, has no– zero–no current law enforcement experience. He likes to throw rocks at me because I happen to go to Mar-A-Lago. Well, let me tell something: my experience certainly trumps his no experience. Anybody if you were invited to the home of the president or the White House would take advantage of that. That's a non-starter," he said.
The one-hour long forum was broadcast over ZOOM with an opportunity for viewers to submit their questions on line. It was sponsored by the Rise Coalition.
Jenkins has served for 16 years as Sheriff, and during that time the agency became part of the 287g program from the US Department of Homeland Security to enforce immigration laws. It lets the Sheriff's Office check the immigration status of suspects arrested by deputies. If they're here in the US illegally, they can deported.
Jenkins has been defending the program for years, sayings it's helped reduce crime in Frederick Country. "Over 14 years, our 287g program has effectively placed detainers on 1,639 criminals in Frederick, and placed those people in deportation, to include 115 criminal gang members," he said.
Bickel is calling for the program to end, and says it hasn't made much of a difference in reducing crime in Frederick County. "Prince George's County reduced crime by 57%; Montgomery by 44% and Frederick County by 30%. All of those counties have probably–and I think arguably–a larger immigrant population and probably undocumented population and they don't have 287g. But yet the crime went down at greater rates in Prince George's and Montgomery County than Frederick County," says Bickel.
Another question posed to the two candidates was how to prevent right wing extremist groups from penetrating the ranks of law enforcement officers. Bickel had this possible solution. "One of the things we could do-and this is something I've been an advocate for–and this is done in the federal government—every five years you re-do a background investigation," he says.
He also criticized the incumbent Sheriff for his membership in Protect America Now, and the Constitutional Sheriff's and Peace Officers Association. Jenkins acknowledged that he is a member of these two organizations, but he says they do not affect the job he does as Sheriff; and they are not extremist organizations.
"There are no extremist or right wing officers in this agency,": he said.
Bickel also charged that Jenkins runs his agency like a good-ole-boy network. "The Sheriff maybe needs to look at the fact that he's hired a son, he's hired a sister. Some of his other personnel have a number of family members on the Sheriff's Office," he said.
Jenkins didn't denied that, but leveled this charged at Bickel. "Mr. Bickel himself when he came here back in 1990, I guess, he was the example cronyism being brought into this office," he said. "Appointed by a Sheriff. the man had no credentials coming in here and yet he wants to sit here and talk about the good-ole-boy system? Please, please I can tell this is a top shelf agency, well trained."
Bickel served as second-in-command under Sheriff Carl Harbaugh. He was let go when Jim Hagy was elected Sheriff in 1994.
General election day is Tuesday, November 8th. Early voting starts on Thursday, October 27th and continues through Thursday, November 3rd.
By Kevin McManus