It will be located at 340 Montevue Lane.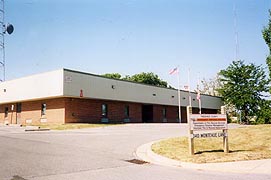 Frederick, Md (KM) A crisis stabilization center is coming to Frederick. During a public information briefing on Thursday, County Executive Jan Gardner announced that it would be located at 340 Montevue Lane. She says it would connect  individuals with mental health and substance use issues to the services they need. "At the same time, the crisis stabilization center would ease the burden on our first responders and our hospital by diverting these individuals away form the emergency room," she says.
Gardner said design work is underway on the building,  which is expected to open as a crisis stabilization Center in the summer of 2023.
Dr. Barbara Brookmyer, Frederick County's Health Officer, says such a facility is needed. "Research conducted by the Maryland Department of Health in 2019 demonstrated that 47% of all Frederick. County 911 behavioral health calls would have been eligible for alternative destination services like this had  such a facility exited," she said.
It would provide services 24-hours a day, seven days a week. "The majority of behavioral health and mental health programs are operating during traditional business hours. However, we know crises can occur at any time of the day, and any day of the week,": Dr. Brookmyer says.
The center will be operated by the Mental Health Association under the direction of the County Health Department. Shannon Aleshire is the CEO of the Mental Health Association. "They're home-like environments that address behavioral health concerns.   mental health concerns and substance use issues in a community based setting," she says.
The Mental Health Association will bring its walk-in clinic to the center at 340  Montevue Lane, and offer services around the clock. "Our staff will include licensed clinical and medical providers, peer support specialists and navigators, and then masters'  and bachelors'  level mental health professionals," says Aleshire.
County Executive Gardner says funding to start  up this center comes from federal grants totaling more than $1.5-million,  a $1-million grant from the State of Maryland, and $850,000 from Frederick County's share of American Rescue Plan Act funding. She also says ongoing operations will be funded through payments made by opioid manufacturers as part of a legal settlement. Frederick County will be getting $11.2-million over a 18-year period from that settlement.  .
Gardner also says the current occupant of the 340 Montevue Lane,. the Board of Elections,  will be moving next year to a new location along Monocacy Boulevard.
The County says people will be referred to the crisis stabilization center by the Mental Health Association's crisis hotline (211 and 988), first responders, law enforcement, mobile crisis  response teams, community providers and family members of those in crisis.
By Kevin McManus