That person was flown to a trauma center.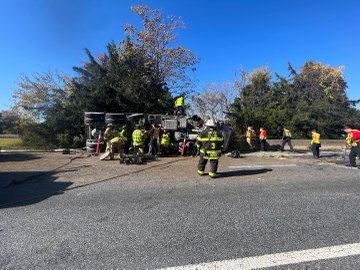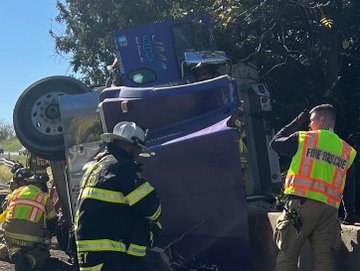 Photos of crash from Frederick County Division of Fire & Rescue Servcies
Frederick, Md (KM) A crash Friday on Interstate 270 near Baker Valley Road in the Urbana area injured one person.
At around 11:14 AM, fire and rescue crews were dispatched to I-270 for a vehicle crash where a dump truck rolled over, and one individual was trapped inside. Rescue crews were able to extricate that person. That individual was flown out by State Police helicopter  to a trauma center.
Hazardous Materials crews were also sent to the scene to clean up a fuel spill.
Maryland State Police say all northbound lanes, and one southbound lane was closed for a time. All  lanes have since reopened.
By Kevin McManus