They were trying to subdue a man who was having a panic attack.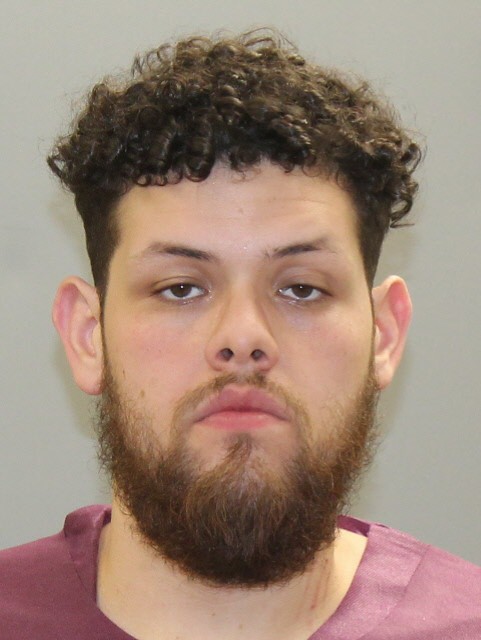 Eliseo Escano (Photo from Frederick County Sheriff's Office)
Frederick, Md (KM) Two Frederick County Sheriff's Deputies were assaulted Sunday night. The two were dispatched to the 7100 of Ladd Circle where medics were dealing with a man identified as Eliseo Escano, 27, of Frederick, who had smoked marijuana and consumed alcohol, and was having a panic attack.
While medics tried to restrain the man, the Sheriff's Offices says Escano became combative, and pushed his father to the floor; and moved toward his pregnant wife in an aggressive manner. The two deputies used their tasers, which had no affect. One of the deputies tackled the man to the floor.
Both deputies attempted to handcuff Escano, and in a struggle, they were injured. The Deputies were able to place Escano in handcuffs, and helped medics put Escano in an ambulance.
"They're not serious injuries," says Sheriff Chuck Jenkins.  "They have to see a doctor for a follow up visit.  I think they're going to be fine. But at the end of the day, I've got two deputies who will be out fo a week as I understand it."
While en route to the hospital, Escano continued to struggle, and tried to break free from the handcuffs. The Sheriff's Office says doctors at Frederick Health Hospital gave authorization to the medics to sedate Escano.
After his evaluation,  Escano was arrested and charged with two counts each of 2nd-degree assault on law enforcement and 2nd-degree assault, and one count resisting and interfering with an arrest.
He was released on personal recognizance, a decision which does not set well with Sheriff Jenkins.  "Anytime an individual commit any type of an assault against anyone and they are charged and taken to Central Booking, they should not under any circumstances be released on their own recognizance without some type of bail to assure their appearance," he says.  "This is a failure of the justice system. And this is exactly what's going on across this  country when criminals aren't held accountable."
By Kevin McManus