He says he found it had to transition back to civilian life years ago.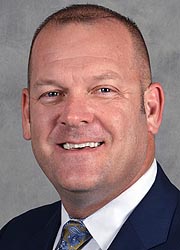 Bill Folden
Frederick, Md (KM) It's often very difficult for military men and women who are leaving the service to adjust to civilian life. Veteran and State Senator-Elect Bill Folden says it's  the mission of the newly-opened Platoon Veteran Services Center in Frederick: to help these veterans transition back to life outside of the armed forces.
He says many went into the military in hopes of making a difference for their country, and protecting our precious liberties. "Through these experiences, going through combat or going through different theaters and services, you change. You get older You start realizing the fragility of life. Things happen back home. They're out of control and all these things get piled on." he says
Folden says these men and women need to feel they're making a difference after they complete their military service. "And when we have these opportunities, it's how do you on  your own morph these things into something  positive. That's where,  for me, it was coaching," he says.
When he returned home from military service, Folden says he experienced the same thing. "I'm a great failure, if you will, of someone that just has had some issues, and probably didn't seek out the services right away," he says. "I'm supposed to be stronger than this and I don't need anything, any help."
But he says coaching kids gave him some meaning in life. "They're our future. They're our defenders of tomorrow, and I wanted to be a part of something that was positive and meaningful for them, and be that structure and discipline and things that are important in team sports for success to drive them forward and forge their path in life to make them successful as well," he says.
Folden spoke last week at the grand opening of the Platoon Veteran Services Center at 1750 Monocacy Boulevard.
For more information go on line to platoonvsc.org, or call 240-267-2581.
By Kevin McManus