One has already been installed at the Myersville Park& Ride lot.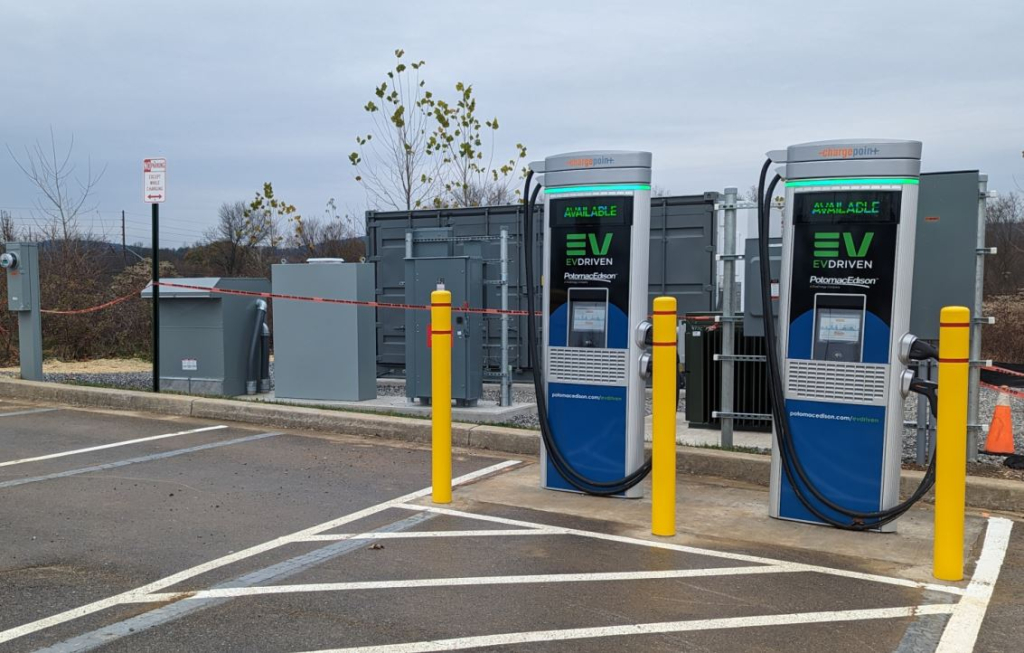 EV Charging Stations (Photo from  MDOT SHA)
Frederick, Md (KM) An electric vehicle charging station has been installed at the Myersville Park and Ride just off of Interstate 70. It's one of several which are  planned for park and ride lots across Maryland. "It's a part of a larger statewide initiative to increase our infrastructure for electronic vehicle charging. This is the first location in the state for a park and ride lot. And they were active as of Friday, November 11th," says Andrew Radcliff, the acting District Seven Engineer for the Maryland Department of Transportation State Highway Administration. District Seven covers Frederick, Carroll and Howard Counties.
Other charging stations are planned for two park and ride lots in Queen Anne's County.
MDOT SHA says it's all part of an effort by the Maryland Public Service Commission to place charging stations across the state. Radcliff says MDOT SHA is anticipating the expected increase in electric vehicles on the nation's roads in future years. "So it's  all about building an infrastructure to support getting more electronic vehicles on the road and decrease the dependency on fossil fuels," he says. "There is a partnership here, and we were able to obtain funding through the National Electric Vehicle Infrastructure program which is   part of the recent bipartisan Infrastructure Investment and Jobs Act."
Radcliff says under an agreement, Potomac Edison installed the charging station at the Myersville Park and Ride. "They will maintain the charging stations as part of the agreement, and they set the rates for the vehicles that want to utilize them," he says.
As more EV's hit the roads, Radcliff says there will be a need for more charging stations. "As we see more electronic vehicles hitting the streets, you see other areas of the country and states planning to put in legislation to require a certain amount of electronic vehicles be sold," he says. "We know they're coming. We know they're out there. We know more are coming. So we're trying to get ahead of the infrastructure itself which is an important part of the process.
And MDOT SHA could e replacing some of its vehicles with EV's, but it would not include the dump trucks which clear snow from the roads. Radcliff says it would be mostly  sedans, vans or SUV's.  . "We will start to migrate into including electronic vehicles in our fleet. On the same regards, we're looking at internally at State Highway facilities where we might be able to incorporate charging stations for those as they become part of our fleet."
By Kevin McManus