A ceremony will be held at the Weinberg Center.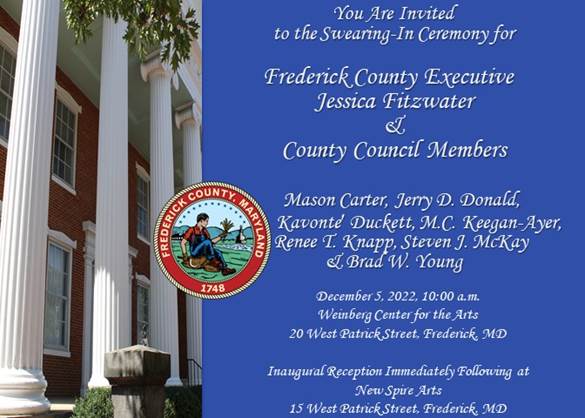 Frederick, Md (KM) A swearing-in ceremony for Frederick County's newest elected officials will be taking place on Monday, December 5th. at the Weinberg Center, 20 West Patrick Street in Frederick. . The ceremony will begin at 10:00 AM
County Executive-elect Jessica Fitzwater will be taking her oath of office. She will be joined by County Council members MC Keegan-Ayer (D), Jerry Donald (D), Steve McKay (R), Mason Carter (R), Kavonte Duckett (D), Brad Young (D) and Renee Knapp (D).
Those planning to attend can park at the Court Street Parking Deck, and can use the ground floor exit in the garage to get into the Weinberg Center.
The ceremony will also be broadcast over the County Government Channel, Cable Channels 19 and 1085. It will also be webcast at www.FrederickCountyMD.gov.FCGTV
After the ceremony, the public is invited to attend a reception at the New Spires Art Stages at 15 West Patrick Street, across from the Weinberg.
By Kevin McManus