Investigators say he re-entered his burning home to rescue the family pets.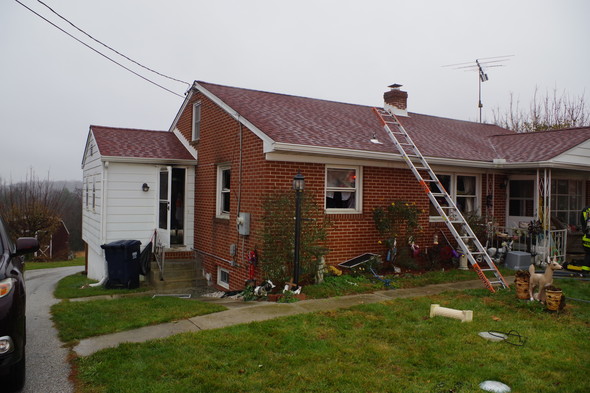 Fire damages home at 2700 block of Littlestown Pike (Photo from Md. State Fire Marshal's Office)
Pikesville, Md One man was killed in a house fire in Carroll County Sunday afternoon.
The Maryland State Fire Marshal's Office says Ronald Joy, 63, and his wife, Kathy Joy, 56, were at home in the 2700 of Littlestown Pike at around 2:30 PM  when a fire broke out. Both escaped before fire fighters arrived, but Mr. Joy went back inside in hopes of locating the family's pets.
Emergency workers located Mister Joy inside the home. He was treated at the scene and transported to a local hospital where he was pronounced dead. Mrs. Joy was also taken to the hospital and was listed in serious condition.
Deputy Fire Marshals responding to the scene say the fire originated in the primary bathroom, but its cause is under investigation.
A: total of five dogs and several cats were rescued or perished during the fire. Authorities also say the home had smoke alarms, but it's uncertain if they had activated when the fire broke out.
"This tragic incident is a heartbreaking but real example of why going back doesn't guarantee that you and your family will make it back alive," says State Fire Marshal Brian Geraci in a statement. "Get out, stay out. Have working smoke alarms and an escape plan in place."
In addition to the State Fire Marshal's Office, the Carroll County Sheriff's Office and Carroll County Animal Control also assisted in this investigation.
By Kevin McManus