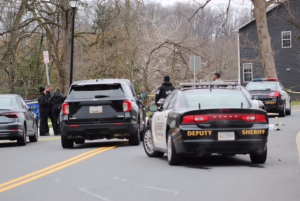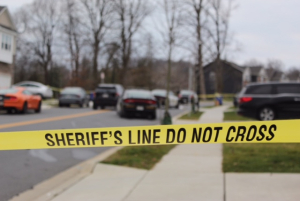 Suspect dead, one victim flown to Shock Trauma
UPDATE-
Frederick, Md. (DG-KM) A man fatally stabbed his father early Tuesday morning before he was shot and killed by police.
Frederick County Sheriff Chuck Jenkins told reporters the crime scene is very large and horrific.
"So at about 2:10 this morning, the Sheriff's Office received a call for a stabbing at 5804 Haller Place with comments by the caller that the suspect was attacking her parents,": he said. The caller was the sister of the suspect. Jenkins continues: "Deputies responded and on arrival and found a female adult victim inside the home with apparent stab wounds."
A man was also found outside with stab wounds. He was taken to the hospital and pronounced dead. The woman was flown to University of Maryland Shock Trauma Center where she is in stable condition.
In addition to Sheriff's Deputies, State Troopers and Frederick Police Officers also responded to assisted.
Jenkins says three deputies and law enforcement officers who responded encountered the armed suspect along the 5800 block of Zoe Lane. Officers spoke with him, and told him to drop the knife. One officer fired a less lethal bean bag shotgun round at the suspect. Other officers used their tasers and the three deputies fired their weapons, striking the suspect, according to a news release from the Maryland Attorney General's Office.
Officers rendered aid, and the man was later pronoucned deasd the the scene. A knofe was recovered, the release says .
Jenkins says the Sheriff's Office will investigate the fatal stabbing. But the Maryland Attorney General's Office will investigate the officer-involved shooting.
"Our role in this investigation will be strictly focused on the police-involved incident that occurred this morning," says Thomas Lescer with the Maryland Attorney General's Office who was at the scene. . "What we will do is release the decedent's information which I can tell so far preliminarily is an adult male. We'll release his full identity once we're able to make next of kin. The involved deputies will be identified within 48 hours."
Lescer said part of the incident was captured on body-cam footage The Maryland Attorney General's Office says the three deputies who fired their weapons were not equipped with body-worn cameras, but the other officers at the scene were wearing the cameras. The Independent Investigations Division of the Attorney General's Office will be reviewing the footage. The footage could be made public within 14 days after this incident. But the Attorney General's Office says the footage may be released after 14 days if more time is needed for investigators to complete their work.
By Dianah Gibson & Kevin McManus