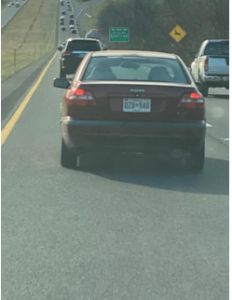 The individual pointed a handgun at another motorist
Frederick, Md (KM)  Maryland State Police are asking anyone who has information on an individual who pointed a handgun at another vehicle on Friday afternoon to contact the Frederick Barrack.
Troopers say they received a call just after 4:30 PM from a motorist  who said another driver in a red Volvo S40 sedan was tailgating him along Routes 15/340 near Mount Zion Road. The victim said the suspect vehicle passed in the right lane. At that time, the suspect rolled down his window and pointed a handgun as he passed. The victim also told troopers the suspect continued to drive aggressively, and pointed the handgun at another motorist.
The handgun is described as a large frame handgun which is silver or gold plated.
The suspect is   a medium to dark skinned man in his 20's and 30's wearing all dark clothing. The suspect's vehicle was last seen turning left from Route 15 to Mountville Road.
If you have information on this incident, or observed this driver's action, you're asked to contact the Frederick Barrack of the Maryland State Police at 301-600-4151. The lead investigator is this case is S/Trp Hopkins.
By Kevin McManus