It contains more than $35-million for Western Maryland.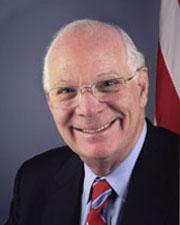 Senator Ben Cardin  
Frederick, Md (KM) An omnibus spending bill is on its way to the President for his signature. The US Senate and the House of Representative have passed the measure Senator Ben Cardin (D-Md) says he's pleased with the legislation. "This is the full year of appropriations for the federal government," he says. "So it gives predictability for the federal agencies and our partners It's really good news for our country."
Cardin says the legislation contains funding for projects in Frederick County, a jurisdiction which is important to this region. :"Important in both the Baltimore and Washington Metro Areas. It is an area of tremendous growth. We've got federal facilities that are located in Frederick County,": he said. "The workforce there not only is important for the county itself, but they do commute in many cases  to both Washington and Baltimore," he says.
Among the Frederick County projects in the omnibus bill  are funding for equipment for the Crisis Stabilization area; technology upgrades for Emergency Operations Center; an advanced water purification system and upgrades to the waste water and drinking water systems  in Brunswick;  shared use trails connecting the city of Frederick with surrounding towns and neighborhoods; funding for economic development through the Frederick Innovative Sciences Center; funds for the Asian-American Center of Frederick's Early Childhood Education Project; Hood College's Data Driven Research Center and Biomedical Research and Training; expansion of STEM research facilities at Mount Saint Mary's University; an upgrade to the Frederick Community Action Agency's Supportive Housing, Food Distribution Center and Soup Kitchen; and money to restore the historic ironworker housing at Catoctin Furnace.
Senator Cardin says he worked with local elected officials to identify the needs of Frederick County and its municipalities. "Worked with the County Exec; worked with the Mayor. We were able to look at their priorities and we were judged by their priorities. What they believe is most important for the city and county has a great deal of influence on where we put our attention to get federal partnerships," he says.
Under the omnibus bill, the total amount of funding coming to Western Maryland, including Frederick County, is $35,694,377.
The bill totaling $1.7-trillion also has additional aid for Ukraine. 
By Kevin McManus