No one was hurt, but fire officials say  the home's smoke alarms were not functional.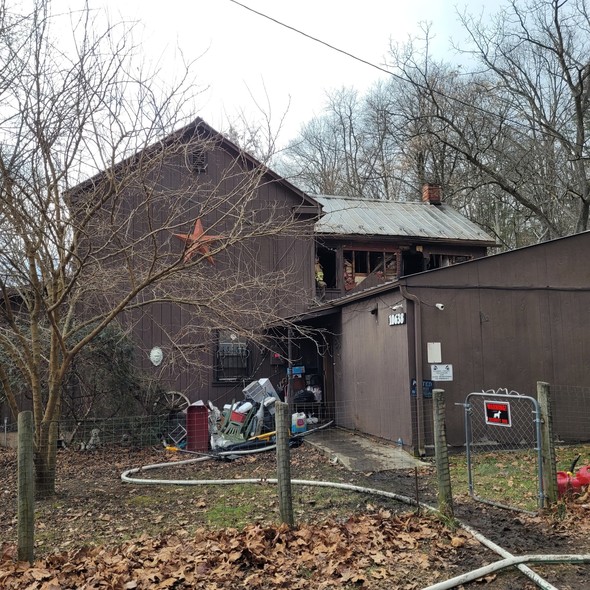 House Fire, 10638 National Pike, Clear Spring, Md.  (Photo from Md. State Fire Marshal's Office)
Clear Spring, Md (KM) There were no injuries from a house fire in Washington County Friday morning.
The Maryland State Fire Marshal's Office says at around 9:21 AM, fire fighters responded to the 10638 National Pike in Clear Spring for a two-story, single- family home on fire. They spend 45-minutes bringing the flames under control. Damage is estimated at $75,000 to the structure, and $30,000 to the contents.
The Fire Marshal's Office says the fire originated in a second floor bathroom, but the cause remains under investigation.
Fire officials say the home had smoke alarms, but they were not working at the time. The National Fire Protection Association says 70-percent of fire deaths  result  from fires  in homes with non-working smoke alarms, or no alarm=s at all.
The Fire Marshal's Office also says there were hoarding conditions throughout the house which can make it difficult for residents to escape during a fire, and for fire fighters because of obstructed exits, falling objects and excessive fire loading. Hoarding is defined as collecting of  larges amounts of various items in a home due to a  strong  urge to save them or distress when discarding them. It can be newspapers, magazines, empty containers, rotting food, old clothing, animals and occasionally animal manure inside and around the house.
"Our biggest goal is the life safety and health of not only the person living within the home but anyone living around them," says Maryland State Fire Marshal Brian Geraci in a statement.
The National Fire Protection Association says between three and five percent of the population struggles with hoarding, which is characterized as an inability to discard personal possession. NFPA also says large amounts of items in a home can prevent the everyday use of space within the house. In addition, it can pose a threat to fire fighters repose ding to emergency calls as well as residents and neighbors.
By Kevin McManus