Participants offered several ideas tor attracting new employees.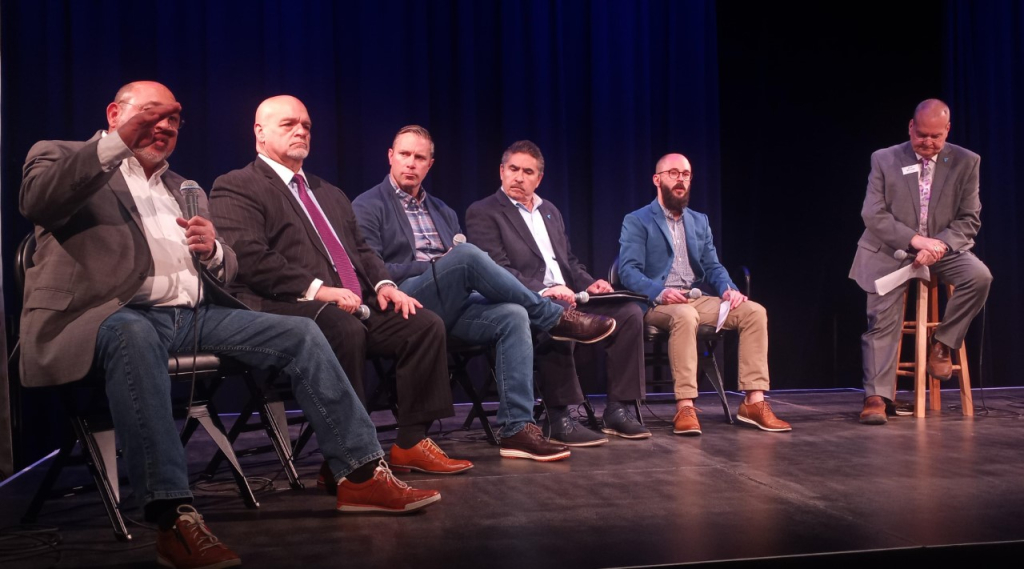 L-R Jose Bueso; Len Joseph; Rich Daughtridge; Nick Marketti; Chris Vandergrift; Rick Weldon.
Frederick, Md (KM) Some unique and original ideas for recruiting, hiring and retaining employees were  discussed during a business forum on Tuesday. The purpose of the event was address the urgent need for employers to locate, attract, hire and retain good employees. This is one of the biggest challenges faced by businesses both small and large.
Chris Vangergrift, Director of Communications and Production for Postern, a marketing business in downtown Frederick, noted that during the COVID-19 pandemic, many companies, non-profits and government agencies, found that allowing their employees to work from their homes or another remote locations  would help reduce  the spread of the virus as well as getting the work done.   But many employees liked working remoting. So Vandergrift says Postern offers a hybrid model for its workforce. "We did evolve to be a hybrid work model. So we allow employees to pick two days  a week to work remotely. They pick whatever two days. They can remote from whatever they want to so long as they're able to do the main responsibilities of their job," he said.
Rich Daughtridge, President and COO of Warehouse Cinemas, says one way to attract good employees is to not just to offer a job, but an experience. "Understood and sort of believe in hospitality, like believe in actually creating an experience," he said. "And that's different from what most major cinemas offer. They offer a ticket taker and they come and go, and they get real expensive popcorn on the way."
Len Joseph, President of On The Town Limousine, says you need to not just offer a salary to prospective employees. You need to offer them a compensation package that includes a salary, benefits and a 401K plan. "You're selling them on your package if you feel of course they're worthy of a good fit in that respect. It's a sales program is what it's all about," he said.
In addition, Joseph said you need to let perspective hires  know they have a future with your company.
Jose Bueso, the co-founder of Dynamic Automotive, said companies need to be pro-active  when it comes to hiring. "In the old days, it was 'oh my goodness. We've got an opening. We've got to put an ad in the paper,'" he said. "Now, we have assembled a hiring team. And they consistently interview on a weekly basis candidates."
Another idea came from Nick Marketti with ANI Signs. "Going through the networking organizations, the Chamber being the most important one in this area. Getting the word out that way really started getting the ball rolling a little bit as far as some referrals of candidates. And like sales, referrals are always better than cold calls," he said.
But a recruiting service really helped, Marketti said. "That kind of turned the spigot on, and we started seeing a bunch of candidates," he said.
The forum was sponsored by WFMD. It was held at the New Spires Arts Stage on West Patrick Street, across from the Weinberg Center.  Assistant Program Director Ryan Heatrick and Chamber of Commerce President Rick Weldon moderated the panel.  Also dropping in were Frederick Mayor Michael O'Connor, and Director of Economic Development, Richard Griffin.
By Kevin McManus