It provides salary increases for IAFF members.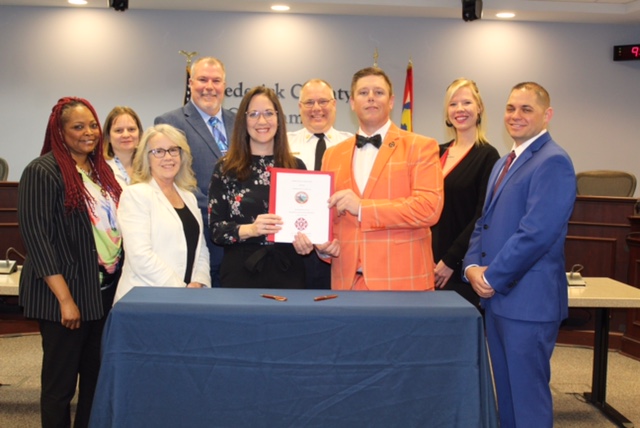 Frederick County Agreement With IAFF after it's signed.  (Photo from Frederick County)
Frederick, Md (KM) There's a new contract between Frederick County and the International Association of Fire Fighters. County Executive Jessica Fitzwater and IAFF Local 3666 President, Stephan Jones, signed the two-year agreement on Wednesday.
"I want to thank the members of our bargaining team for their work throughout this process," says County Executive Jessica Fitzwater, in a statement. "I appreciate that the parties came to the negotiating table in good faith. The agreement signed today shows that process established by the County Council in 2020 works."
"On behalf of more than 550 professional fire fighters who serve Frederick County every day, we are thrilled to celebrate this shared accomplishment of the County Executive and our union," Jones says in a statement. "Collective bargaining is a process–and the process worked. The contract paves the way for a safer Frederick County and invests in our fire fighters that put their lives on the line every day."
The contract contains an 8.5-percent pay raise for fiscal year 2024, and six percent in fiscal year 2025. Employees with certifications in specialized positions such as paramedics, hazardous materials technicians, technical rescue technicians and water rescue technicians will receive additional compensation. There's also a new procedure for grievances and terms for how the arbitration process is handled.
The County says these negotiations were a first for fire fighters to include working conditions. This follows a change supported by voters in 2018 to expand the items fire fighters can negotiate with the County. It became law in 2020 through a bill introduced by then County Councilmember Fitzwater.
It also has increased leave for fire fighters who are members of the Armed Services Reserves, and sets up a leave bank dedicated to training for peer support members.
This new agreement takes affect July 1st, 2023. .
By Kevin McManus