Victim was an elderly man.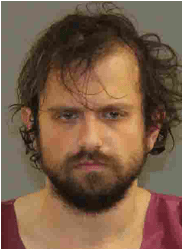 Kyler Beard. (Photo from Frederick Police Department)
Fredeick, Md (KM) A man has been charged with attempted murder for an incident in Frederick on Friday morning..
Police say just after 6:30 AM, officers were sent to the 600 block of Wyngate Drive for a report of a stabbing. When they arrived, they found the victim was a man in his 60's. First aid was administered, and he was medivaced to an area trauma center with life-threatening injuries.
Authorities also located and identified the suspect, Kyler Philip Beard, 35. . They learned that the stabbing resulted from a domestic incident in which the suspect intended to harm other people the house.
Beard is charged with two counts of attempted 1st-degree murder, and other charges including assault, burglary, home invasion and violating a protective order.
He's currently being held without bond.
By Kevin McManus