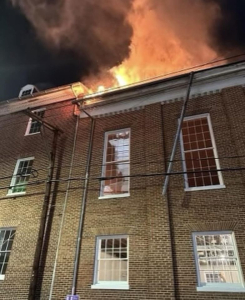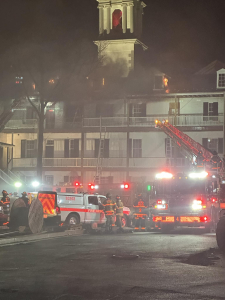 (Photos from Frederick County Fire & Rescue's Facebook page)
Frederick, MD (DG) – A two-alarm fire Saturday night in Frederick causes extensive damage to the former Visitation Academy.
According to Frederick County Fire and Rescue's Facebook page, firefighters responded to the building at 200 E. 2nd St. at around 8:30 PM. When first responders arrived at the building located at 200 E. 2nd St. they found heavy fire coming from the roof.
At around 12 AM the fire was put out. Extensive overhaul was needed and fire crews remained on the scene for an extended period of time.
There were no injuries reported. No one was displaced. The building was under renovation.