It affects the highway from US 340 to the Pa. state line.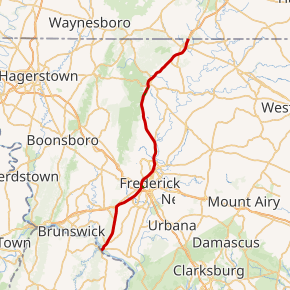 US 15 in Frederick County
Frederick, Md (KM) For the next several weeks, the Maryland Department of Transportation State Highway Administration will be making pavement improvements along US 15 from US 340 to the Pennsylvania state line. It will  include patching the pavement along various portions of the highway. "This project is going to require rehabilitation including bridge approaches. So that's a little bit different from what we normally do with a patching project," says  spokesman Danny Allman.
MDOT SHA says the project began almost two weeks on northbound US 15 north of Powell. Road. Other projects often  include a specific stretch of highway. But Allman says this one  will include various locations along US 15. "It's various locations, but most  of it will be the bridge approaches,": he says.
Allman says this is similar to a routine maintenance project. "It is a pavement improvement, and that's what it's all about because of the wear and tear our roadways incur with all of the traffic which uses them throughout the year," he says.
This work is expected to cause some closures along US 15. "Northbound US 15: daytime lane closures will occur from 8:00 AM till 4:00 PM," Allman says. "And then the southbound US 15 lane closures will happen south of US 15  overnight between 8:00 PM and 5:00 AM."
The contractor, Francis O. Day, Inc., of Rockville, will use arrow boards, barrels and cones to safely guide motorists through the work zones.
MDOT SHA urges motorists to be patient. Allman says drivers who want to  find out about the status of the project and where the closures will be  can visit the project portal page at roads.maryland.gov.
MDOT SHA urges motorists to be patient.  "We expect all the work on US 15 as part of this pavement improvement project to be complete by the end of May," Allman says. "And as we like to say, weather permitting."
By Kevin McManus