He's expected to appear in federal court next week.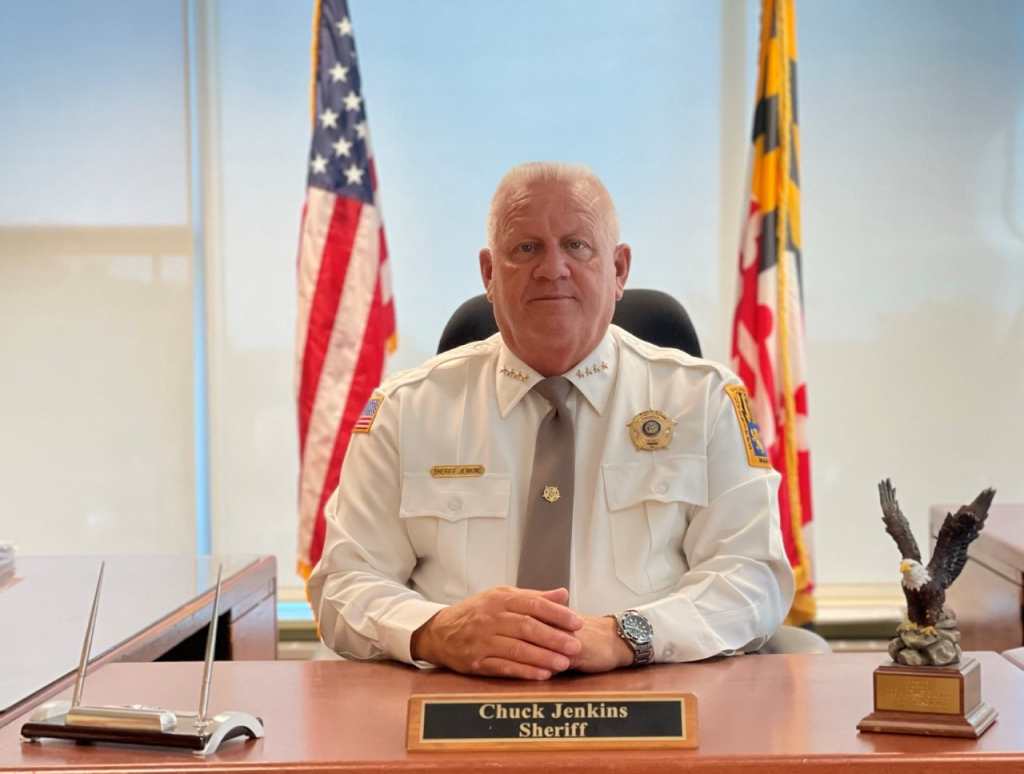 Frederick County Sheriff Chuck Jenkins (Photo from Frederick County Sheriff's Office)  
Frederick, Md (KM) Frederick County Sheriff Chuck Jenkins will not step down or take a leave of absence following his indictment. . That's according to Public Information Officer Todd Wivell who held a news conference on Wednesday following news of the indictment.
He read a statement from Sheriff Jenkins to reporters. "I will continue to serve as your Sheriff as this process plays out, and fully expect my deputies, correctional officers and staff to remain the true professionals that they are," Wivell said.
Earlier on Wednesday, the US Attorney's Office for Maryland announced that Jenkins and local gun dealer Robert Krop had been indicted for conspiracy and false statements in the purchase of machineguns. Federal law generally prohibits the possession, transfer and importation of machineguns which were imported or manufactured after May 19th, 1980. The exception is for bona fide government agencies.
Wivell says the Sheriff has an attorney who has advised him not to talk publicly about this case. But he has known about the investigation for about a year. . "He's been fully cooperative with the DOJ and the AFT the entire time,:" he said. "We had no knowledge that this was happening today until the press release came out from the DOJ at about 12:30." The DOJ is the US Department of Justice, and the ATF is the Bureau of Alcohol, Tobacco, Firearms and Explosives.
Despite this indictment, Wivell says Jenkins still believes he can carry out his duties as Sheriff. "He still feels like he can still support the role of Sheriff for Frederick County. We all as an agency believe in him. There's a lot of people in this county who believe in him as well. I believe he believes in the justice process and that he wants to see how it plays out," he says.
Wivell also said the deputies, correctional officers and other employees with the Sheriff's Office will continue to do their jobs in a professional manner. "There's going to remain professional. They know they have the Sheriff's back as he has had theirs, and they're going to keep doing what they need to do," he says. "And that just doesn't apply to the deputies serving the road. We also have correctional officers at the jail. We also have deputies and special police officers down at the court house."
The Sheriff is expected to make his first appearance in federal court in Baltimore next week, Wivell says, But no specific date has been set..
Prosecutors say indictments are not findings of guilt, and all defendants are innocent until proven guilty.
By Kevin McManus