Both were pulled to safety in a rescue basket.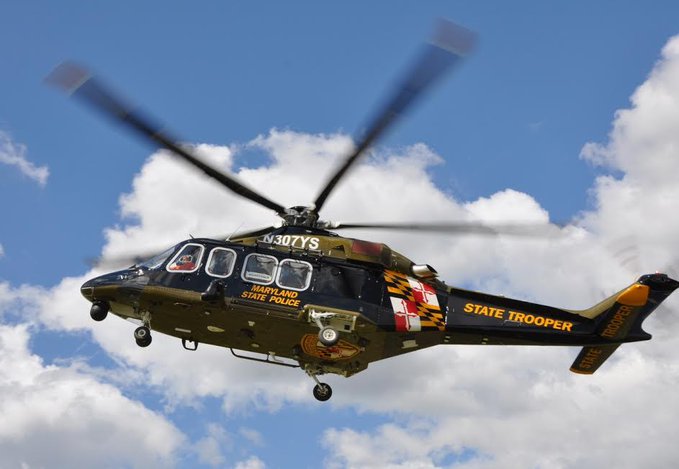 Md State Police Helicopter
Harpers Ferry, WV (KM) A successful rescue by a Maryland State Police helicopter took place late Sunday night near Harpers Ferry. .
State Police say Trooper 3 based at Frederick Municipal Airport was called out at about 10:00 PM for a hiker and his dog named "Angel" who were stranded on a cliff above the Shenandoah River. Authorities say the two had been hiking the area along the Loudon Heights Trail when they became lost and unable to reach the main trail.
Fire and rescue personnel from Jefferson County, West Virginia made contact with the hiker by cell phone, but the terrain was too treacherous and steep for a rescue attempt. The Maryland State Police Helicopter was called.
The State Police helicopter hovered 150 feet over a heavily wooded area with a steep and rocky terrain. A Trooper/ Rescue Technician was lowered to the scene and made contact with the victim. . It was determined the hiker did not need any medical assistance. All three were placed in a rescue basket and brought on board the helicopter which flew away. .
Trooper 3 landed at the US Customs and Border Protection Advanced Training Center near Harpers Ferry where an ambulance crew did an evaluation on the hiker, and made arrangement for a friend to pick him up.
By Kevin McManus