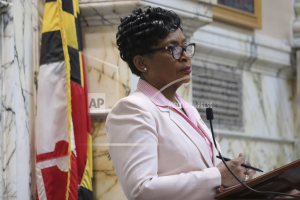 Maryland House Speaker Adrienne Jones presides over debate during the last day of the state's 90-day legislative session, Monday, April 10, 2023, in Annapolis, Md. (AP Photo/Brian Witte)
ANNAP0LIS, Md. (AP) — Maryland lawmakers have wrapped up their 90-day legislative session. After long debate Monday night, the Maryland General Assembly passed a bill that would prevent someone from carrying a concealed handgun in certain areas like school playgrounds, hospitals or polling locations. Lawmakers gave final approval to a bill to expand Maryland's commitment to offshore wind. The bill also aims to modernize the electricity grid to transmit offshore wind energy from the ocean to land. The legislature passed a bill that creates a nine-member Maryland Thoroughbred Operating Authority to oversee delayed plans to renovate Pimlico Race Course — home of the Preakness Stakes — and Laurel Park.
Maryland lawmakers passed several measures to protect abortion rights. Voters will decide whether next year whether to enshrine abortion rights in the Maryland Constitution. Maryland will speed up its scheduled increase of the minimum wage to $15 an hour to take effect in January, rather than waiting until 2025. The General Assembly passed the governor's expansion of tax credits that had been set to expire for low-income residents.