The chase led officers through Montgomery and Frederick County.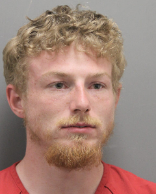 Johnnie Franklin Dove, Jr.
FREDERICK, MD. (KM) A Derwood man who led police on a vehicle chase through Montgomery and Frederick Counties on Tuesday has been arrested. Johnny Dove, 22 years old, was located in Virginia.
Dove is charged with attempted first-degree murder, in connection with a violent assault which allegedly occurred on Sunday, April 9, 2023. He is currently being held at the Loudon County Detention Center, awaiting extradition back to Maryland.
Montgomery County Police said Dove was located in Clarksburg on Tuesday, and officers attempted a traffic stop. Dove sped away into Frederick County and Frederick City, and was able to switch vehicles in an attempt to get away, authorities said.
In addition to attempted 1st degree murder, Dove is also charged with first degree assault, use of a firearm during a violent crime, 2nd degree assault, and reckless endangerment.
By Loretta Gaines and Kevin McManus