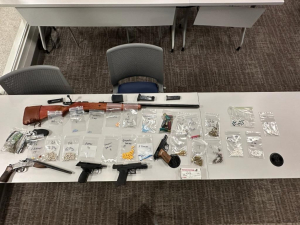 Martinsburg, WV – (MO) Martinsburg Police were dispatched last Friday to 118 North Center Street for what was reported to be a domestic situation.
After an investigation, Police executed a search warrant and found 6 firearms, ammunition, 37 suspected fentanyl capsules, 1 gram of meth, 1 gram of crack cocaine, approximately 18 grams of marijuana and other miscellaneous pills.
Mark Wayne Carter was arrested and charged with Domestic Battery, Possession with Intent to Distribute Fentanyl and Prohibited Person in Possession of a Firearm.