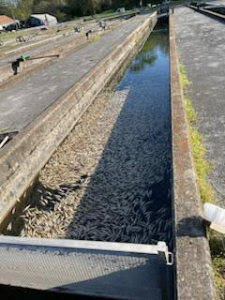 Hagerstown, MD – (MO) Maryland Department of Natural Resources continues to investigate the death of 25,000 Trout at the Albert Powell Hatchery.
Employees at the hatchery discovered that someone had closed a discharge valve in one of the hatchery's raceways early Monday morning.
That raceway housed a regenerative blower that supplied oxygen to the fish. As a result 25,000 trout died due to lack of oxygen.
The trout were hatched in October of 2022 and were to be stocked in the Western Maryland Region for the 2024 Trout Fishing Season
Anyone with any information about this is asked to contact Officer Jeremy Miller at 420-260-8888