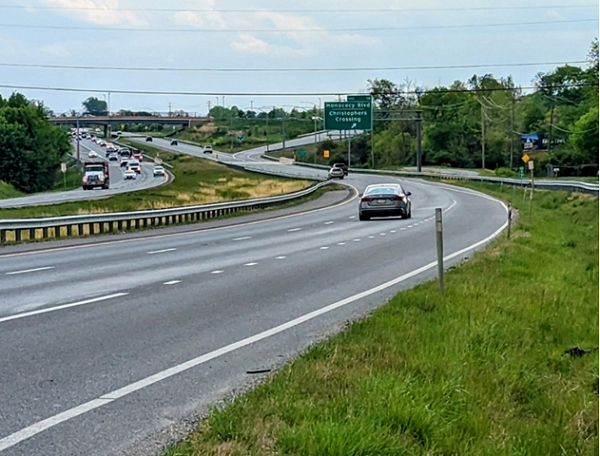 US  Route 15 southbound.  Auxiliary lane is in the foreground; Christophers Crossing exit in the background. (Photo from MDOT SHA)
Frederick, Md (KM) Work on constructing  an auxiliary lane on southbound US Route 15 from Willow Road to Christophers Crossing north of Frederick is expected to begin on Tuesday, May 2nd.
The Maryland Department of Transportation State Highway Administration says crews will close the right lane to begin improvement work at 10:00 PM on Tuesday. The auxiliary lane will be extended to a quarter mile. Its purpose is to enhance safety for motorists as they enter and exit the highway.
Drivers can expect right lane closures on southbound US Route 15 during work hours .which will be from 8:00 PM until 5:00 AM Sundays through Thursdays. MDOT SHA says the exit ramps on southbound US Route 15 will be closed. Traffic will be detoured.
Motorists traveling along Willow Road traveling to  US Route 15 will be detoured using Willowbrook Road/Opposumtown Pike to Christophers Crossing and then US Route 15. Drivers heading southbound on US Route 15 traveling to Willow Road or Christophers Crossing will be detoured to the Motter Avenue Exit, than northbound US Route 15.
The contractor, Francis O. Day of Rockville, will use electronic signs, barrels, and cones to safely guide motorists through the work zone and detour route.
The project is expected to be completed by June, weather permitting, MDOT SHA says.
By Kevin McManus