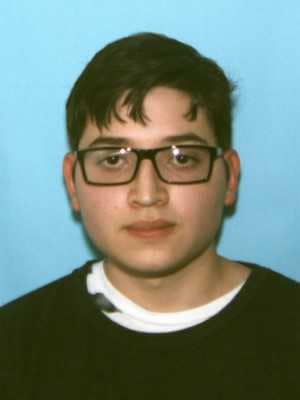 Joe Louis Esquivel (Photo From The Associated Press)
Hagerstown, Md (KM) A West Virginia man arrested for fatally shooting three fellow employees at a machine shop in Maryland last year has been declared not criminally responsible. According to the Hagerstown Herald Mail, Washington County Circuit Court, Judge Brett Wilson on Tuesday ordered Joe Louis Esquivel, 24, of Hedgesville to be returned to the local detention center to await transfer to a state mental institution. He said it would most likely be the Clifton T. Perkins Hospital Center in Howard County.
A Maryland State Health Department report, which was summarized in court on Tuesday, says Esquivel suffers from schizophrenia which is a mental disorder where people experience a distorted reality and hallucinations, according to the Herald Mail.
Esquivel was charged with three counts of first-degree murder and other offenses  for fatally shooting three co-workers on June 9th, 2022 at Columbia Machine in Smithsburg, and wounding one other employee.
Esquivel fled the scene, but was apprehended following a shootout with state police. One trooper was injured.
By Kevin McManus