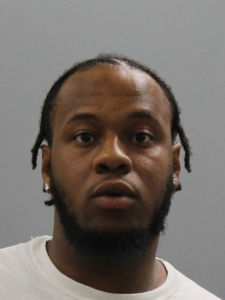 Frederick, Md (KM) A Frederick man is being held without bond after his arrest on drug and weapons offenses. The Sheriff's Office says Israel Herman Logan, 25, was taken into custody Wednesday, May 3rd at his home in the 5200 block of Black Locust Drive. Authorities say they were serving a search and seizure warrant at the residence.
Logan is charged with:
*Firearm/drug trafficking crime (3 counts)
*Controlled Dangerous Substance (CDS) – Possession with intent to distribute (PWID) a narcotic (2 counts)
*CDS possession – large amount
*CDS possession – not cannabis
*CDS possession – cannabis over civil amount
*Firearm possession with felony conviction
*Illegal possession of ammunition
*Regulated firearm – illegal possession.
Deputies say they found these following items in Logan's home:
*3 handguns
*194 M-30 fentanyl pills (8.3 grams)
*29.7 grams of unknown pills
*4.6 pounds of marijuana (2101.8 grams)
*$5,194
*ammunition.
Logan was taken to the Adult Detention Center for processing.
The Sheriff's Office says its Narcotics Investigations Section and Proactive Criminal Enforcement Unit were assisted  by the Frederick Police Tactical Investigations Unit and the US Department of Homeland Security Investigations.
By Kevin McManus