Police are asking for help identifying the suspect.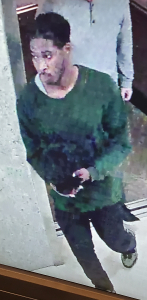 Chevy Chase, Md. (BW)- The Montgomery County Department of Police are investigating an armed robbery that took place on Monday, May 1.
At around 10:45 a.m. police responded to a commercial building in the 5500 block of Wisconsin Avenue where the the suspect reportedly robbed the victim.
The investigation revealed that the suspect approached a woman in the stairwell and touched her inappropriately before displaying a knife and threatening to kill her.
The suspect then took the victim's phone and threw it against the wall. He then took the vicitm's wallet and left the scene.
The suspect is described as a black male with a tall, thin frame approximately 20 years old.
He was last seen wearing a black hooded sweatshirt and black pants.
If you have any information about the suspect please contact Montgomery County Police.