Dirt bike and ATV riders have been a problem on the streets and sidewalks of Hagerstown.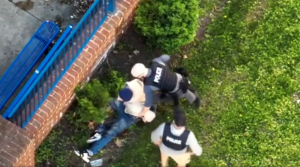 Hagerstown Police arresting a dirt bike operator (captured by drone footage)

Hagerstown, Md (BW)- The Hagerstown Police Department is trying to stop and apprehend operators of ATV's and dirt bikes driving dangerously on sidewalks and streets by using drones.
For the past 18 months, dirt bike and ATV riders have been endangering themselves and the public by driving recklessly and illegally on the roadways and sidewalks throughout the city of Hagerstown.
In October 2022, the Hagerstown City Council approved the purchasing of drones for the Hagerstown Police Department. The drones were purchased in December 2022.
Hagerstown Police Chief Paul Kifer spoke at a City Council meeting last month to provide an update on how the drones are helping solve the problem of illegal dirt bikes and ATV operators.
Kifer acknowledged the frustration of the community and said in three patrols with the drones, officers seized six bikes, four of which were stolen, and made seven arrests.
He also showed footage captured by a drone of a dirt bike riding through the streets and on the sidewalks of Hagerstown to show the public how this technology worked. The driver of the dirt bike in the video swerved in and out of traffic and also did not obey traffic signs and patterns.
Kifer explained that the drone operator was communicating the location of the driver with officers on the ground who were able to find the driver and arrest him.
He also addressed parents and their role in this illegal and dangerous activity.
"No longer are you gonna be able to sit back and say my kid's out of control if we can prove that you are enhancing their ability to commit these crimes and do these actions," Kifer said.
There have been 60 dirt bikes seized over the past 18 months.