Hagerstown police seized three dirt bikes.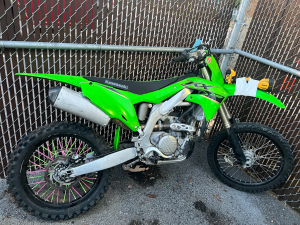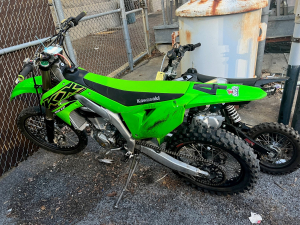 (Photos Courtesy of Hagerstown Police Department)

Hagerstown, Md. (From Hagerstown Police Department)- On May 11th, 2023 the Hagerstown Police Department conducted one of many operations targeting dirt bike and off road vehicles driving without regard within the city.
Officers utilized newly purchased drones along with the crime camera system. Within one hour Officers were able to seize 3 dirt bikes and charge two individuals.
One adult and one juvenile were charged with operating the dirt bikes. Information related to the juvenile charged cannot be released.
Manuel Edward Black was captured at 58 Madison Ave., where he resides. Earlier in the day Black struck a marked police cruiser with a dirt bike as an Officer was exiting the vehicle and attempting to take him into custody.
After his capture, Black was taken to central booking and charged with 2nd degree assault, resisting arrest, fleeing & eluding on foot and within a vehicle, reckless driving and numerous other traffic offenses.
The Hagerstown Police Department would like to thank the community for the continued support and information related to the dirt bikes.