MDOT SHA says this follows the fatal tanker truck crash, explosion in March.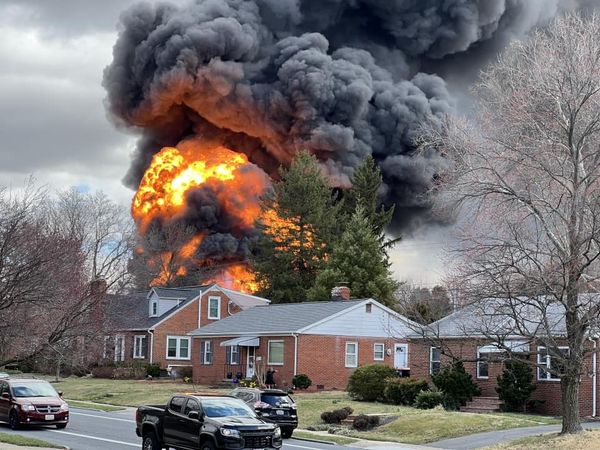 House on fire in Frederick following tanker truck explosion  (Photo from Frederick County Fire & Rescue Services)
Frederick, Md (KM) The Maryland Department of Transportation State Highway Administration will install  guardrails along a three-mile stretch of US Route 15 in Frederick. The work is expected to take place this coming Sunday through Thursday, May 21st to May 25th. The hours will be from 10:00 PM to 5:00 AM.
Andrew Ratcliffe, the District 7 Engineer for  Frederick, Carroll and Howard Counties, says this project follows the fatal tanker truck crash, explosion and fire in March along Route 15 near Apple Avenue in Frederick. He notes that guardrails were installed near the crash site shortly after that incident. "Immediately after the tanker crash, we looked to address that area along Apple Avenue. So we installed guardrail from the spot where the Rosemont Avenue entrance ramp ties into US 15 northbound," he says. "And then ran along Apple Avenue and connected to the existing guardrail that was there that kind of ran up to the bridge over West 7th Street."
The tanker explosion  and fire burned the vegetation along Route 15 near Apple Avenue, and did extensive damage to a nearby house. The tanker truck driver was the only fatality from the accident. No one else was injured. The tanker was carrying gasoline.
MDOT SHA says crews will close the shoulder and right lane of northbound US Route 15 at Jefferson Street. The Guardrail will be installed along northbound US 15 between Jefferson Street and the exit ramp to eastbound US 40; northbound US 15 between 7th Street and Motter Avenue; the ramp from Motter Avenue onto southbound US 15; the ramp from eastbound US 40 to southbound US 15; and southbound US 15 between the Opposumtown Pike ramp and the 7th Street exit ramp.
The work is expected to be completed by the end of next week, weather permitting, says MDOT SHA.
Ratcliffe says guardrails protect an errant vehicle from leaving the road and possibly getting into a bad crash. But he says there are other considerations  MDOT SHA must think about before erecting guardrails. :"While it protects the roadside, the guardrails can make what could be a simple single vehicle crash and could make it more serious as the guardrail is a hazard," says Ratcliffe. "But it can also redirect vehicles into traffic. So these are factors we kind of have to weigh."
Motorists who will be traveling that area of US Route 15 during the overnight hours next week are urged to be patient, and pay attention to their driving while in the work zone.
MDOT SHA also says this project is separate from the widening of US Route 15 in Frederick which is fully funded, with construction scheduled to begin in 2026.
By Kevin McManus