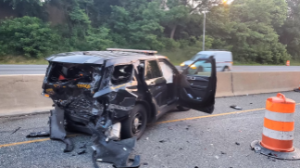 Montgomery County, Md (BW)- A Maryland State Trooper was injured after a suspected drunk driver struck his patrol vehicle on Monday, May 22.
The trooper was transported to Shock Trauma in Baltimore.
Shortly after 4:30 a.m., Troopers responded to the inner loop of 495 at University Boulevard.
According to investigators, 31-year-old Anthony Bowser, of Washington D.C, was driving a white Mercedes SUV on 495 when he entered the construction zone and struck the rear of a Maryland State Police cruiser, injuring the trooper.
Bowser was transported to Suburban Hospital.
Charges are pending the outcome of the investigation.