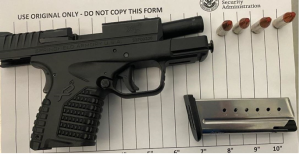 Dulles, Va. (KM) An Adamstown man is facing charges for trying to bring a loaded handgun on a flight at Washington Dulles International Airport on Monday. The Transportation Security Administration says Marc Curtis Roberts, 51, had a nine-millimeter handgun in his carry-on bag which was loaded with four bullets. The weapon was detected as Roberts entered the security checkpoint.
The Metropolitan Washington Airports Authority Police confiscated the gun, and cited Roberts on a weapons offense. . In addition to the citation, TSA says Roberts faces a stiff financial penalty which could reach a maximum of $15,000.
"Memorial Day may be a week away, but the busy summer travel season has begun when travelers bring prohibited or illegal items such as a loaded gun at our security checkpoint, it slows down the screening process," says Scott T. Johnson, TSA's Federal Security Director for the airport, in a statement. "When someone shows up with a firearm at the checkpoint, the conveyor belt is stopped until police arrive, and can remove the carry-on bag from the x-ray machine to safely secure the weapon. Guns should never be brought to the security checkpoint in carry-on luggage. Travelers have the responsibility of showing up at our airport checkpoints prepared to go through the screening process, which means they need to go through carry-on bags to ensure that there are no prohibited items inside. With that in mind, I recommend that when packing for a flight, it is best to start with an empty bag so you know what is packed inside of it."
TSA says last year it seized 6.542 firearms at 262 of the 430 airport security checkpoints around the country; 88-percent of those guns were loaded.
By Kevin McManus