He stole a woman's purse.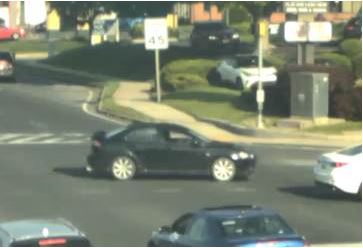 Suspect's vehicle from a May 10th, 2023 robbery along Hillcrest Dr & Lancaster Pl. (IPhoto from Fredeickm. Md. Police Department)  
Frederick, Md (KM) Frederick Police continue to investigate a robbery last month in the Hillcrest area.
On May 10th, 2023, along Hillcrest Drive and Lancaster Place, a man approached a woman and her juvenile  daughter. He used force against both of them while trying to steal the woman's purse.. He got away in a black  Mitsubishi Lancer with a model year between 2008 and 2017.
The suspect is described as a  White male   with arm tattoos and a goatee.
If you have any information on this person, you're asked to contact Frederick Police.. You can call or text  Detective Jones at 240-674-7085, or you can send   an e-mail at [email protected]. Individuals can call the Tip Line at 301-600-TIPS. They can remain anonymous if they choose.
The Frederick Police also partners with Metro Crime Stoppers. Anyone who submits a tip through MCS could receive a cash reward if the information lead to an arrest. You can visit https.//metrocrimestoppers.org for more information.
By Kevin McManus