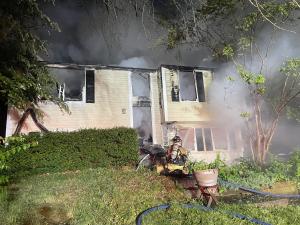 (Photo Courtesy of Frederick County Fire and Rescue Facebook Page)
Frederick, Md (DG) – A man was killed in a house fire early Wednesday morning in Frederick County.
At around 4:30 a.m. firefighters were dispatched to a house on fire on the 1700 block of Brookshire Run in Potomac Village.
When emergency crews arrived, they found flames showing from the house. Firefighters could not enter the house for a period of time.
According to scanner reports, a deceased body was found in the basement of the home. The victim has been identified as an adult male and is believed to be the sole occupant of the residence.
It took about 60 firefighters around 45 minutes to control the fire.
Public Information Officer for Frederick County Fire and Rescue, Sarah Campbell said, the home is "drastically damaged".