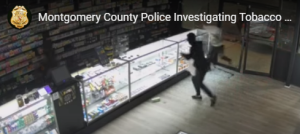 Tobacco shop sees smash and grab; $10,000 max reward for good info

Gaithersburg, MD (LR) A stolen Hyundai was used to break into a tobacco store in Gaithersburg, leading to three suspects filling bags with stolen items earlier this month.
Montgomery County Police detectives say surveillance video shows the silver-colored car smashing into the front of the Tobacco King in the 18500 block of Woodfield Road around 4:48 a.m. on Wednesday, June 14.
The trio of bandits used trash bags to lift the loot from the store. They drove off in the Hyundai, which turns out to have been reported as stolen from Germantown.
Police were made aware of the burglary when a person arrived at the store later that morning and reported that the glass door had been shattered and otherwise damaged.
Anyone with information on the smash and grab burglary in Gaithersburg should call Crime Solvers of Montgomery County toll-free at 1-866-411-TIPS (8477). A reward of up to $10,000 is offered for information leading to an arrest.