It involves filing online, rather than sending materials in the mail.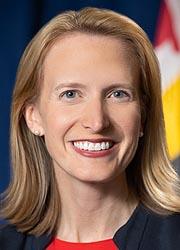 Md. Comptroller Brooke Lierman
Annapolis, Md (KM) If you think you have unclaimed property being held by the Maryland Comptroller's Office, there's now an easy way to find out. You can do it online. Comptroller Brooke Lierman says residents can go to https://onestop.md.gov and fill out a form. "I would argue even more secure because you're not sending it to us through the mail. You're just uploading it," she says. "But we're really excited about this new and much easier way to claim you unclaimed property."
Unclaimed property can be old investment accounts, stocks, bonds, abandoned or forgotten bank accounts, insurance policies or the contents of safe deposit boxes.
If you use this system, you are still required to provide proof of identity such as a driver's license. "Rather than making a photocopy at a copying machine of your driver's license, you can simply upload a J-Peg and simply send it to us this way," Lierman says.
Even when using this process to file for unclaimed property, Lierman says it may take the Comptroller's Office some time to process the file. "It takes several weeks to make sure that we can look up some property, to make sure that we can then verify all the identification and information and make sure everything is in line," she says.
If you're not sure if you or your deceased or living family members have unclaimed property, Lierman says it's still a good idea to check the listings which are published in state newspapers from time to time. "I have found property a few years that I had no idea. It was simply a refund check from CVS, of all things, that I never cashed," she says. "I had enough money to buy me a couple of lunches one week>'
For those who missed the latest listings of unclaimed property published in their local newspapers, Lierman says the list is available on the Comptroller's Office website at marylandtaxes.gov.
By Kevin McManus