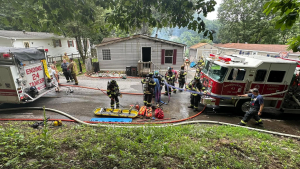 Carroll County, Md. (DG) – A fire in a mobile home Saturday July 8, 2023, killed a Carroll County man.
Shortly after 1 PM firefighters responded to a fire in the 2400 block of Fairmont Road in Hampstead. When they arrived, firefighters found a mobile home in the Rockbrook Trailer Park with heavy fire in the rear. Crews entered the home and found the victim inside..
Fire officials concluded the fire started in the rear bedroom, where the victim was located.
According to the Maryland State Fire Marshall's Office, the victim is believed to be the 70-year-old homeowner. The official identification and cause of death are pending an autopsy.
Investigators consider the home a total loss, and two other family members living there were not home at the time of the fire.