He was sworn on Monday.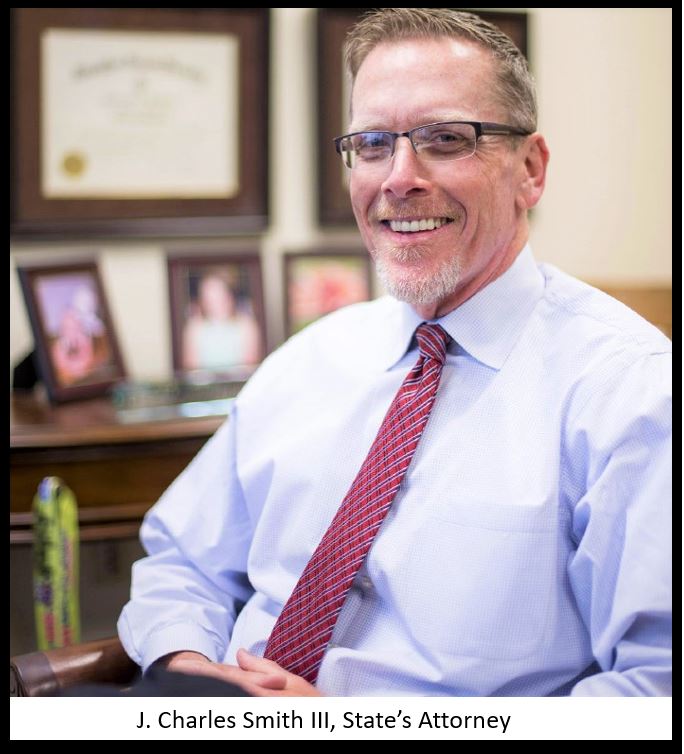 (Photo from Frederick County State's Attorney's website)
Arlington, Va. (KM) You could says it's quite an honor for a local prosecutor. The National District Attorney's Association has elected Frederick County State's Attorney Charlie Smith as its president. Smith was sworn into that office on Monday during the Association's annual summer summit in Nashville, Tennessee.
The Association says Smith, as president, will focus his attention on "proactive prosecution" during that time.  . That means promoting and advancing the nation's prosecutors as leaders in the courtroom and the community. Smith also says he will continue the NDAA's focus on advancing policies and trial advocacy programs to assist and support the nation's prosecutors.
Smith also says he 's committed to boosting prosecutor recruitment and retention, and address challenges faced by prosecutor's offices nationwide.
"Charlie's vast experience and his proven commitment to justice make him a standout choice for leading the NDAA," says outgoing president John Flynn, in a statement. "He has been an unwavering advocate for his community, and we are confident that under his leadership, he will continue to elevate the voice of our nation's prosecutors>"
Smith was first elected Frederick County State's Attorney in 2006.
He is a distinguished graduate from the University of Maryland and University of Baltimore School of Law. Smith began his career in law as an Assistant State's Attorney in Baltimore City. After a few years in private practice, Smith was hired as a prosecutor in Frederick County in 1998. He served as Chief of the Child Abuse/Sex Offense Division, and Deputy State's Attorney.
The District Attorney's Association was founded in 1950, and is the oldest and largest national organization representing state and local prosecutions in the nation. It has more than 5,500 members representing two-thirds of the state and local prosecutors offices in the United States.
By Kevin McManus