Residents who have come into contact with this animal are urged to speak with their health care providers.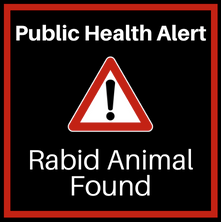 Frederick, Md (KM) A fox found roaming Catoctin Mountain Park and Cunningham Falls State Park recently has tested positive for rabies. The Frederick County Health Department says the fox, which was collected on Saturday, July 8th, was seen hanging around the Camp Misty Mount area for several days. It was taken to Maryland Department of Rabies Testing Laboratory for testing.
Anyone who may have had contact with this animal between Saturday, June 24th and Saturday, July 8th should contact their health care provider and notify the Health Department's Community Services Office at 301-600-3342 . If your pet has had contact with this fox, speak with  your veterinarian and call the Health Department's Environmental Health Unit at 301-600-1717 and report it.
Rabies is a viral disease which infects human and other mammals. It comes from  the saliva of the infected animal, usually in the form of a bite. Symptoms of rabies in animals are fear of water, excessive salivation, failure to eat or drink, limping, and unusually friendly or aggressive behaviors. It can also include atypical behaviors such as nocturnal animals coming out during the day time.
The disease is nearly always fatal in humans.
"To protect your family from possible rabies exposure, do not touch or play with wild or stray animals, and make sure your pets are fully vaccinated,": says Barry Glotfelty, the Director of the Health Department's Environmental Health Services, in a statement..
If you or your pets have had contact with a stray or wild animal, call Frederick County Animal Control at 301-600-1544.
By Kevin McManus