MDE says groundwater levels in these areas are lower than normal for this time of year.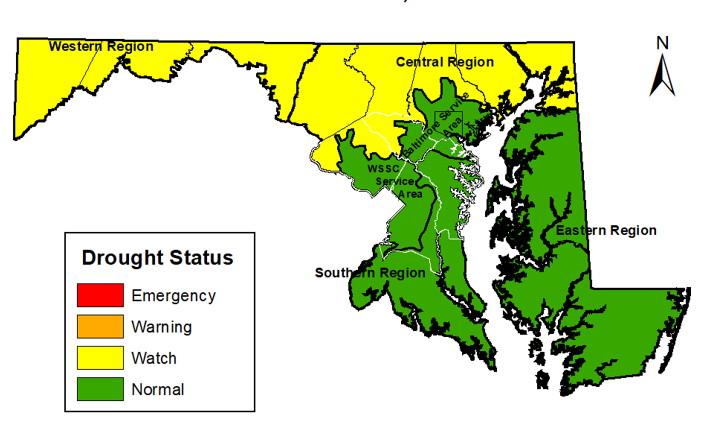 Md. Drought Watch Map (Map from Md. Dept. of the Environment)
Baltimore, Md (KM) A drought watch has been issued for Frederick, Carroll, Howard and Montgomery Counties, as well as the Western Maryland Counties of Washington, Allegany and Garrett. Lee Currey the Director of the Water and Science Administration with the Maryland Department of the Environment, says there's no critical water shortage at this time, and no mandatory water restrictions are being imposed. But he says groundwater levels in this area are  lower than normal for this time of year.
"Probably the driest part of the year, the area that is most critical is late August and early September," Currey says. "But we're in July, and we're seeing groundwater levels that are below normal."
Also included in this drought watch are Baltimore, Harford and Cecil Counties. It does not include the areas receiving water service from Baltimore City, and the Washington Suburban Sanitary Commission.
Currey says residents in the affected areas are strongly encouraged to voluntarily limit their water use. Some suggestions would be taking shorter showers, turning off the water faucet while brushing their teeth and not washing their cars as much.
The area has received some rain, but Currey says it was not enough to break the drought. "With the most recent rainfall, we have seen some stream flow levels rise some. So that's been positive,": he says. "Groundwater levels take a little bit more time to respond because  during the summer, some of that rainfall gets intercepted by the trees."
So what would lead to mandatory water restrictions, Currey was asked. "We're seeing very low, much lower than normal, combination of groundwater, low rainfall or deficiencies in rainfall, low reservoir levels, low stream flows levels,:" Currey continues. "And all those components combined could result in mandatory restrictions. But we're not at that point yet."
He also says there's the possibility this drought may not last too long. "We are also following the national forecast for drought. This looks  several months into the future. The recent forecast is showing that it's likely that a drought might not persist. So that's good news.< says Currey.
The areas served by Baltimore City and the Washington Suburban Sanitary System have "ample supplies of water," Currey says. He say Baltimore City is served by three reservoirs and they have reserve capacity built into their system. WSSC takes water for its customers from the Potomac River, and has three reservoirs upstream. It's also served by reservoirs locally.
"When we're looking at western Maryland, there are multiple systems, larger and smaller systems," Currey says. "Some folks get water from the groundwater, from wells. Some from surface water, from rivers, some from reservoirs which why we take this broader, regional approach in looking at water levels throughout that region and look at multiple factors when we make decisions."
By Kevin McManus