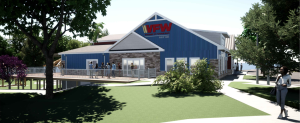 Frederick, Md. (BW)- The Veterans of Foreign Wars John R. Webb Post 3285 in Frederick is seeking donations to complete a new building project.
The building will serve as the new home for post 3285. It will span about 9,000 square feet and cost between $2.5 million and $3 million.
Construction is set to begin in the Spring of 2024 with plans for the building to be completed in September 2024.
The main purpose of the VFW is to help veterans set up their Veterans Affairs claims and receive benefits.
Patrick Pierson is the New Building Chairman for the VFW John R. Webb Post 3285. He said this building will not only provide services to veterans but also serve as a welcoming environment for veterans to come and feel like they belong.
The current post is located at 5902 Old National Pike and the new building is set to be built across the parking lot at 5951 Old National Pike.
The VFW has posts throughout the nation, including six that span across Frederick, Carroll, Howard and Montgomery Counties.
In order to be a member of the VFW, veterans must pass certain eligibility requirements, however, veterans and their families do not need to be members to receive assistance.
To donate or learn more go to the VFW post 3285 website.