No sales tax will be imposed on some items of clothing, backpacks during that time.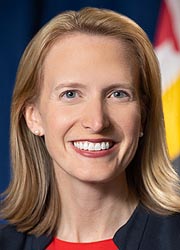 Maryland Comptroller Brooke Lierman
Annapolis, Md (KM) Shop Maryland Tax Free Week is coming up. From Sunday, August 13th through Saturday, August 19th, articles of clothing and backpacks under $100 can be purchased without paying the state's six-percent sales tax. Comptroller Brooke Lierman says if a backpack costs more than $100, the first $40 are tax exempt.
She says this is a great time for families doing their back-to-school shopping, especially if their budgets are tight. "The General Assembly passed it many years ago to help families, to help anybody who needs to buy clothes or book bags. For certainly for families who are preparing to send their kids back to school. Maybe you have a few kids and you're buying for all of them. It really adds up," Lierman says.
This tax free week has been around for several years, and Lireman says it's been very popular. "Retailers report to us that many people wait for these tax holidays to do their shopping with good sense to make sure they can make a dollar go further," she says.
As for making up any lost revenue, "We believe that it's more important, that it's worth it to forgo this small amount of revenue as a state to make a big different in the lives of Marylanders to help them save a little bit while they can on these types of products," she says.
The State Comptroller's Office says it's a great opportunity for resident to support their local retailers.
By Kevin McManus