Sentence was handed down on Wednesday.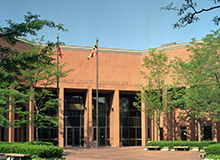 Frederick County Court House
Frederick, Md (KM) In Frederick County District Court on Wednesday, a man was sentenced for assaulting two sheriff's deputies. Eliseo Escano, 27, of Frederick received ten years total, but Judge Eric Schaffer suspended that time behind bars. Escano received three-years probation.
He was told he must complete a mental health evaluation, abstain from alcohol, drugs and illegal substances, and do 48 hours of community service.
Escano was arrested in November following a physical struggle with two deputies inside his home. One the deputies needs ongoing treatment.
His attorney argued that her client had no criminal convictions and this was one-time incident.
By Kevin McManus