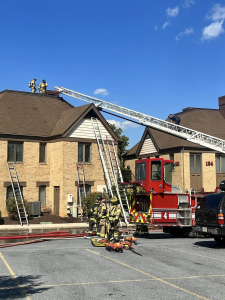 (Photo Courtesy of Frederick County Fire and Rescue Facebook page)
Frederick, Md. (BW)- Frederick County Fire and Rescue put out a building fire in Frederick on Friday, August 18.
Around 3:20 p.m. units were dispatched to 184 Thomas Johnson Drive for a building fire.
When units arrived smoke and fire was showing from the side of the building and the roof. The building on fire, as well as neighboring buildings evacuated.
The fire was knocked after a short time.
The 180 block of Thomas Johnson Drive was closed to traffic during the incident.