Authorities say the youth pulled a knife on a SRO.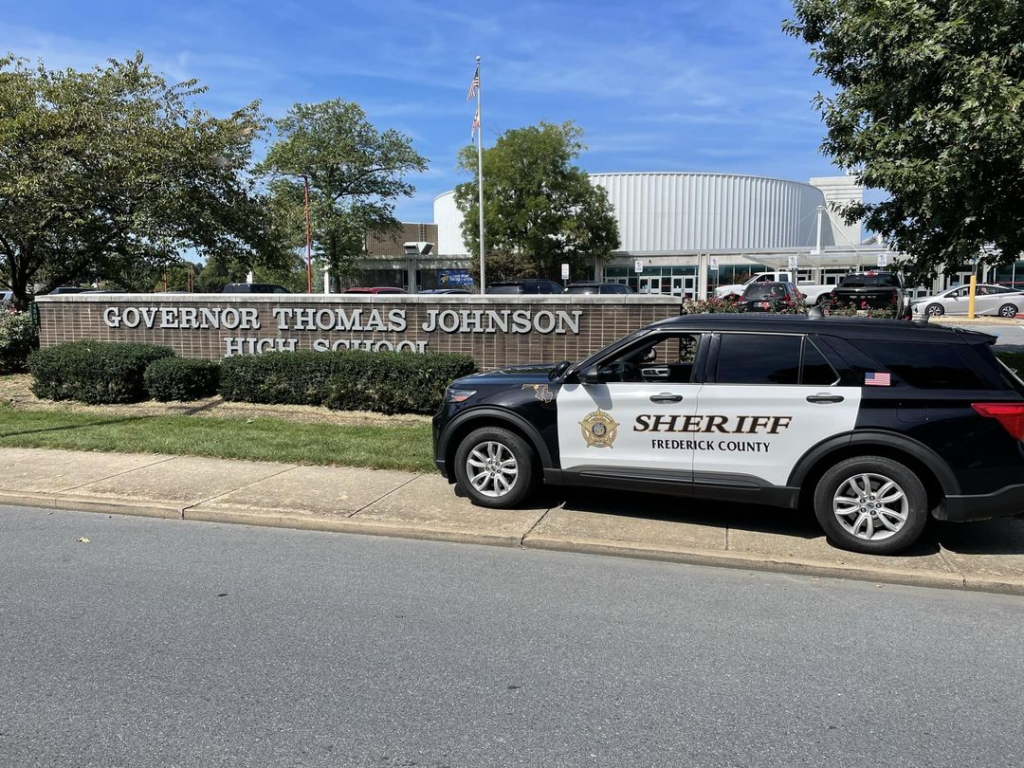 Gov. Thomas Johnson High (Photo from Frederick County Sheriff's Office)
Frederick, Md (KM) A student at Governor Thomas Johnson High has been charged as an adult following a disturbance at the school on Wednesday morning.
The Frederick Sheriff's Office says just after 9:00 AM, two School Resource Officers were in the hallway during a class change when they saw a disturbance between two groups of students. They intervened and got between two primary parities to prevent the disturbance from escalating. One SRO escorted a student from the area, and the other one worked to de-escalate  the other student.   The second student resisted, and began to physically push and get away from the deputy. The SRO displayed but did not use his TASER.
That student walked away while the SRO and school staff attempted to de-escalate the student.. They all entered a school office.
While inside, the student pulled out a folding knife and began making threats of violence at the SRO and other students in the building. The deputy once again displayed his TASER, but did not use it, telling the student to drop the knife. He did as he was told, but continued to resist arrest. He was eventually taken into custody.
The youth identified as a 16-year-old is charged with numerous offenses:
1st Degree Assault
2nd Degree Assault
Dangerous Weapon on School Property
Resisting Arrest
Threats of Mass Violence
Reckless Endangerment
Disturb School Operation
Affray
Failure to Obey a Lawful Order
He was taken to the Adult Detention Center. . His name has not been made public.
"The incident at Governor Thomas Johnson High  School is not how we, or our partners at Frederick County Public Schools, wanted the school year to start," says Lt. Brian Woodward, the School Resource Officer Commander, in a statement. "However, this one incident is not a reflection of the entire Governor Thomas Johnson High School community."
By Kevin McManus