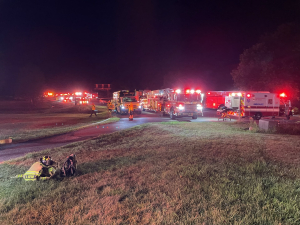 Frederick, Md. (DG) – A house fire turned deadly early Sunday morning in Adamstown.
Shortly after 2 AM Frederick County Emergency Communications received a 911 call about a house fire in the 6800 blk of Stonewall Court E. in Adamstown with people trapped inside.
When fire fighters arrived, they saw fire showing from the second floor of the home. At 2:24 AM fire crews found one of the residents in a second floor bedroom. A few minutes later a second person was found. Both residents were in cardiac arrest and given medical care by EMS. They were both pronounced dead.
A third person was located in a basement apartment and removed from the home unharmed.
The Frederick County Sheriff's Office is reporting Thomas Wiles, 74, and Joy Wiles, 75, were both killed in the fire.
The investigation into the cause of the fire is under investigation.